Ivory Productions: Walt Lafty, MaddaM Ink acoustic, Cat Manning, and Mike Pinto
Discover your next favorite local artist!
Every month on the first Thursday, Rivet will join forces with producer/engineer David Ivory to present an evening of great talent on our stage.
With over 35 years in the music industry, Grammy-nominated recording engineer David Ivory has seen it all. He has engineered and produced several Gold- and Platinum-selling albums, designed and built four recording studios from the ground up and teaches audio production and recording techniques at the college level. Another real talent David possesses is discovering and cultivating new talent and helping those artists grow as artists as performers and songwriters. He was instrumental in bringing mainstream attention to bands such as Silvertide and Halestorm, who were signed to J Records and Atlantic Records, respectively.
At a time when new bands are popping up every day on the internet, "David Ivory Presents" is focused on the best of what the region has to offer. Just as it provides young bands and established artists with a valuable opportunity for exposure, the show also gives real music lovers a chance to discover just how much talent there is right in their own backyards.
About The Artists:
Walt Lafty
Singer-songwriter Walt Lafty fronted the band Silvertide as a teenager. At first, the band was signed by J Records, and they released their first EP American Excess in 2002. Their first full album, Show and Tell, was released in 2004 and produced by David Ivory. After completion of their debut album in 2003, Silvertide hit the road and toured straight until 2006, most notably in support of Van Halen, Velvet Revolver, Mötley Crüe and Alter Bridge. The band also performed on an episode of Jimmy Kimmel Live.
Walt has since established himself as a top notch solo artist and songwriter. His latest efforts once again team him in the studio with producer David Ivory. His performance at Rivet is sure to be a memorable performance.
Cat Manning
Cat Manning returns to Rivet after her powerful unforgettable debut last month! DO NOT MISS CAT!
Mike Pinto
Very Special Guests…
MaddaM Ink (Acoustic Set)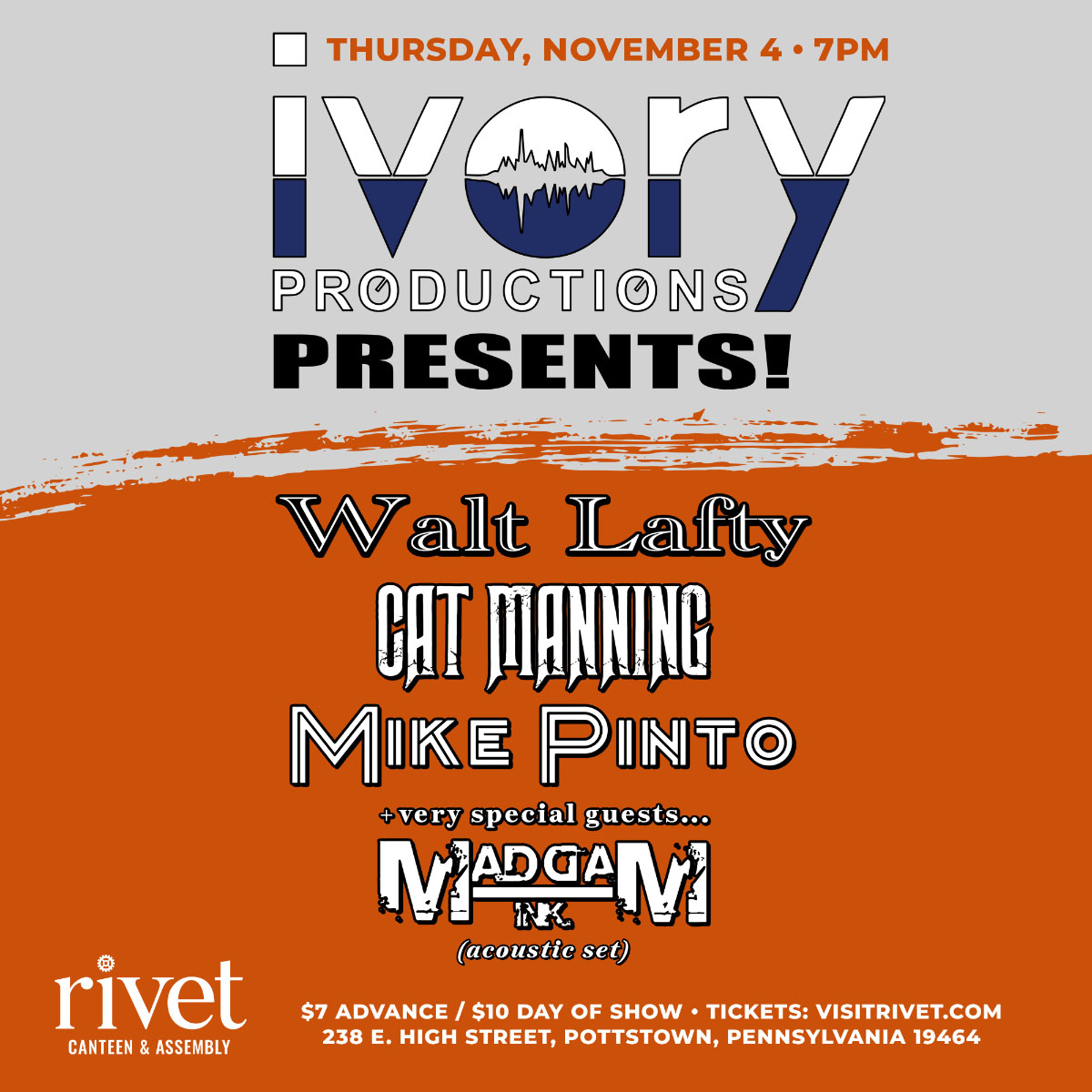 Event Details & Tickets
Doors: 7:00 PM / Show: 8:00 PM.
Tickets: $7 in advance / $10 day of show.
Food and drinks are available!
All ages are welcome, but music lovers under the age of 21 should be accompanied by a parent or someone over 21.
Advanced ticket holders may make table/seating reservations by filling out the form on our website or giving us a call at (484) 949-8374. Table space is limited. Make sure you have your ticket purchase order number when calling for reservations. All unreserved seating is on a first come, first served on the evenings of the shows.