BLACK CROWN INITIATE w/ special guests: OUTER HEAVEN
Join us for a very special tour kick off show for Century Media Recording Artists, BLACK CROWN INITIATE + one night only special guests OUTER HEAVEN (Relapse Records). This is the first live show for BCI since 2019 and the first show of 2022 for Outer Heaven!
Black Crown Initiate will be embarking on a full US tour starting the day after this show in NY with Omnium Gatherum (from Finland) and Allegaeon (from Colorado).
This is only area show for BCI and Outer Heaven. JOIN US!!
Event Details & Tickets
Doors: 8:00 PM. Show: 8:30 PM.
Tickets: $8 in advance / $12 day of show.
This show is 18+ to enter / 21+ with valid ID to drink.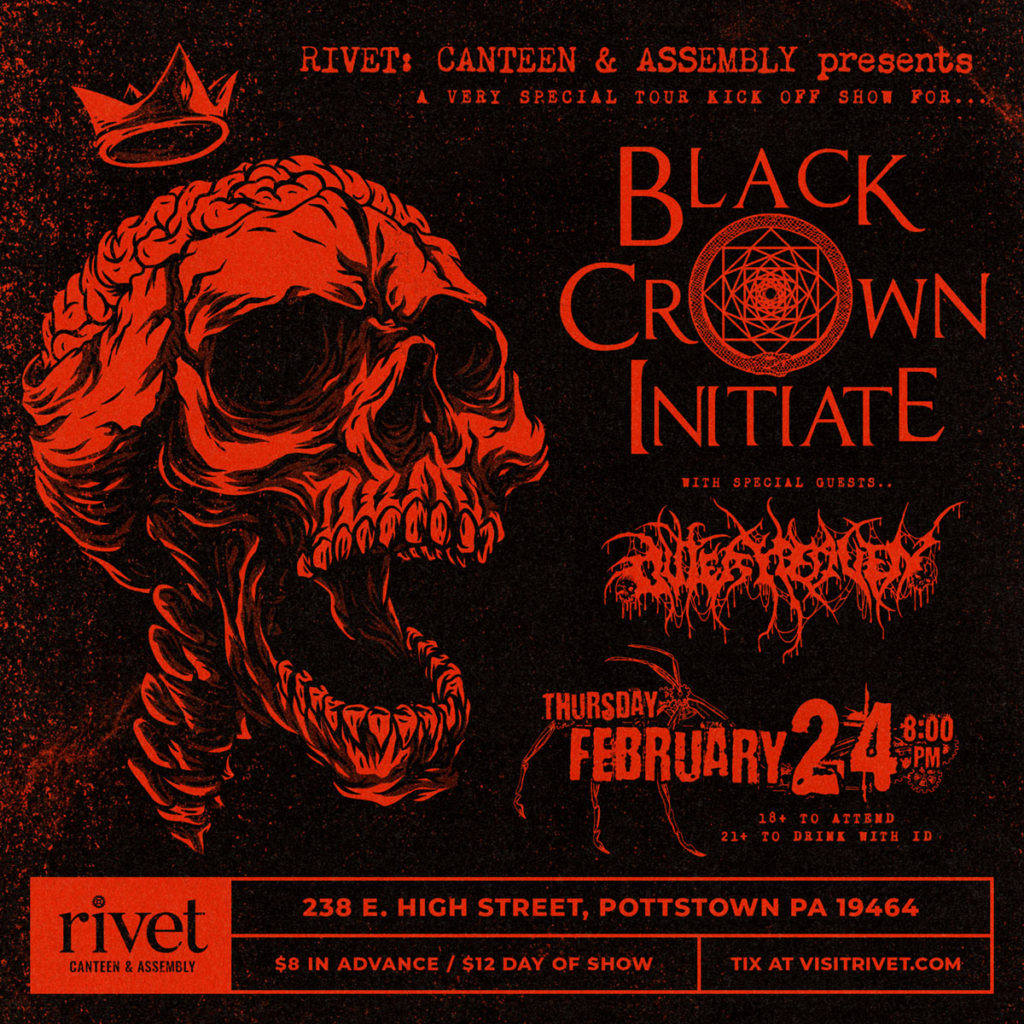 About The Artists:
Black Crown Initiate
Employing a punitive blend of blackened death metal and heady progressive metal, Pennsylvania's Black Crown Initiate emerged in 2012 and found success with the arrival of their 2016 sophomore effort, Selves We Cannot Forgive. The band continued to build momentum both at home and abroad with the band touring the world. In 2020 BCI signed with metal behemoth Century Media and released their punishing third full-length effort, Violent Portraits of Doomed Defeat.
Outer Heaven
An uncompromising quintet from Douglassville (!) PA., Outer Heaven employ a punitive blend of old school extreme metal and groove-laden death metal. Founded in 2013, the band wasted little time in making a name for themselves in the East Coast heavy music scene, issuing an eponymous demo shortly after forming, followed by an EP, Diabolus Vobiscum, in 2015. They teamed up with decibel-crushing contemporaries Gatecreeper, Homewrecker, and Scorched for a 4-way split in 2016, and in 2018 they inked a deal with Relapse Records and released their first full-length effort, Realms of Eternal Decay. 2020 the live album recorded at the legendary Brooklyn venue St. Vitus was released. The newest offering from the band (October 2021) is entitled 'In Tribute​.​.​.' featuring a 5-track slab of grotesque covers from some of extreme metal's finest: Repulsion, Morbid Angel, Pig Destroyer, Mortician & Death!